Dr. Shivcharan Lal Choudhary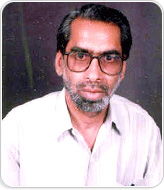 AAHF Award of Gold Medal 2004
Born in 1946, in Jaipur, Rajasthan (Raj.), Dr Shivcharan Lal Choudhary received his early education at Bhawani Mandi (Raj.) and college education in Udaipur and Jobner (Raj.). Dr Choudhary received his M.Sc. (Ag.) degree in 1969 and Pill in Plant Pathology in 1988. He began his professional career as an assistant professor in Plant Pathology at G V College of Agriculture, Sangaria (Raj.). In subsequent years, he worked in various positions and since 1986, he has been working at the Rajasthan College of Agriculture, Udaipur. Currently he holds the position of Associate Professor of Plant Pathology. For six months in 1996, Dr Choudhary worked as a Visiting Scientist (Plant Pathology) at the International Crops Research Institute for the Semi-Arid Tropics (ICRISA T), Patancheru, Andhra Pradesh. He has so far authored over 40 publications and guided 11 M.Sc. (Ag.) and 2 PhD students. Dr Choudhary made professional trips to Thailand, Malaysia, Singapore, Hungary, and France.
Dr Choudhary is an organizer par excellence. During his tenure of the Indian Society of Mycology and Plant Pathology, Dr Choudhary was instrumental in enhancing the prestige of the Society to an international level by successfully organizing a Global Conference on Plant Disease Management at Udaipur in 1995.
It was Dr Choudhary's initiative and hard work that the Rajasthan Chapter of the Asian Agri-History Foundation was established at Udaipur (Raj.) in 2000. As Secretary of the Chapter, he has organized several national meetings on topics of agricultural heritage. All this has led to increased awareness of the need to study our agricultural heritage. He was able to locate a rare copy of the Sanskrit text, Vishvavallabha, written in the 16th century during Maharana Pratap's reign. Vishvavallabha contains a wealth of information on the horticulture of medieval times in Rajasthan. Dr Choudhary has been invited all over the country to deliver lectures on agricultural heritage. He has translated one publication of the Asian Agri-History Foundation, Surapala's Vrikshayurveda, in Hindi.
To recognize Dr S L Choudhary's immense contribution to the study of Indian agricultural heritage, the trustees of the Asian Agri-History Foundation are delighted to award him the AAHF Gold Medal 2004.