Mrs. Sheila Vijayakumar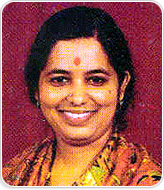 AAHF Award of Trustees Medal 2004
Mrs. Sheila Vijayakumar was born in 1955 in Secunderabad, Andhra Pradesh. She had her education in Secunderabad. In 1976 she obtained MSc degree in Biological Sciences from the Amrit Kapadia Navjivan College, Hyderabad, which is affiliated to the Osmania University, Hyderabad.
Mrs. Sheila Vijayakumar joined the International Crops Research Institute for the Semi-Arid Tropics (ICRlSAT), Patancheru, Andhra Pradesh in 1976 and worked as a Senior Research Associate in research as well as in research management until 1997. During this period (1987-88) she worked as a Visiting Scientist with the Tissue Culture for Crops Project (TCPP), Colorado State University, Fort Collins, Colorado, USA.
Having recognized her potential to be a research editor, ICRISA T sponsored her for a course in Book Publishing in 1995. After a long, satisfying and successful career at ICRlSAT, she joined the Asian Agri- History Foundation (AAHF) as Assistant Managing Editor in April 1997 and continues to work in that position. She also does freelance scientific editing for different national and international organizations.
During her research career at ICRISA T, she contributed significantly to projects in pulses pathology and tissue culture. She has been a co-author in over 60 research publications, including a book "The Pigeonpea" which she co-edited. She was elected Fellow of the Indian Phytopathologial Society, New Delhi. She was a trustee of AAHF from 1994 to 1997.
Mrs. Sheila Vijayakumar has taken the major responsibility for editing all AAHF publications, eight volumes of the journal Asian Agri-History and five bulletins so far. The quality of the editing of these publications has received praise from international readership.
To recognize her immense contribution to the success of AAHF, the trustees are delighted to honor Mrs. Sheila Vijayakumar with the award of Trustees Medal, 2004.