Dr. Nalini Sadhale Honored!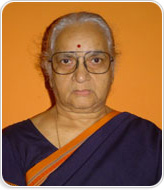 Professor Nalini Sadhale receives honorary doctorate from Maharishi University of Enlightenment, The Netherlands
Professor Nalini Sadhale, who has been associated with the Asian Agri-History Foundation (AAHF), Secunderabad, India since 1994, has been awarded honorary doctorate by the Maharishi University of Enlightenment (MUE), Vlodrop, The Netherlands for her "very great contribution to the field of Vedic Agriculture". All those associated with AAHF feel very happy at the honor bestowed on Professor Sadhale. She will personally receive the award in The Netherlands in July 2010
Dr Nalini Sadhale was born on 3 November 1934 at Jalgaon, Maharashtra, India and had her schooling and first two years of college education there. In the Intermediate Arts examination of the University of Pune, she secured top rank and was awarded scholarships and prizes for further study. She went to Pune for studies in Sanskrit and acquired BA and MA degrees of the University of Pune in Sanskrit, studying under the able guidance of Dr RN Dandekar (a noted orientologist), Dr Mehendale, Dr Patwardhan and the like. She secured top rank in BA and was awarded the prestigious Daxina fellowship for being the best student in the faculty of Arts. During the postgraduate studies, she worked as a research fellow in the Bhandarkar Oriental Research Institute in Pune.
In 1957, Dr Sadhale was appointed as a lecturer in Sanskrit at the Osmania University, Hyderabad and worked there till 1994, retiring as a professor and Head, Department of Sanskrit. She acquired PhD of the Osmania University specializing in Sanskrit narrative literature with special reference to Kathasaritsagara of Somadeva. The thesis is acclaimed by scholars in the field, especially for its contribution to definition and structure of Sanskrit Mahakatha, which is published by Sanskrit Academy, Osmania University as 'Katha in Sanskrit Poetics'.
During the service period, Dr Sadhale held various administrative and academic posts at the department and the University. She attended several seminars, conferences, and workshops and has presented papers and published articles in journals. She has been a guide, supervisor, and examiner for the MPhil and PhD degrees for a number of students.
Dr Sadhale completed a project on a Sanskrit Mahakavya of a medieval period for Rashtriya Sanskrit Sansthan, New Delhi as a Shastra Chudamani scholar. Having a good knowledge of Sanskrit, English, Marathi, Hindi, and Telugu, she pursued her interest in 'translation' both as a profession and as a hobby. On professional level, she has completed several translation projects for Sahitya Academy, Mumbai; Andhra Pradesh Marathi Sahitya Parishat, Hyderabad; Maharishi Vedic Organic Agriculture University, The Netherlands; Rashtriya Sanskrit Vidyapitha, Tirupati and so on. As a hobby she has been engaged in composing Sanskrit poetry. She rendered Rama-Charita-Manasa (Balakanda) of saint Tulasidasa from medieval Hindi into a poetic verse form of Sanskrit entitled 'Tulasimanasanalinam'. The published work was released by the then Prime Minister of India, Late Shri Morarji Desai. She was blessed (felicitated) in the Indian traditional manner by His Holiness Jagadguru Shri Shankaracharya of Shringeri Pitha for the composition. The title "Kavi-Kokila" was conferred on her also by Jagadguru Shri Shankaracharya of Dwaraka Pitha for the poetic composition.
Since the beginning of her career in Sanskrit Dr Sadhale's aspiration has been to establish modern relevance for the Sanskrit studies. She found a proper conduit for fulfilling her aspiration in the aims and objectives of AAHF. She has been associated with the activities of the foundation from its inception and has rendered for it many ancient and medieval Sanskrit manuscripts/texts into English for further and deeper studies by the agricultural scientists. The AAHF has recognized her immense contribution through the award of AAHF Gold Medal in 2002.
Professor Sadhale translated several Sanskrit texts into English for AAHF. These are: (i) Surapala's Vrikshayurveda, (ii) Krishi-Parashara, (iii) Chakrapani Mishra's Vishvavallabha, and (iv) Hamsadeva's Mriga.pakshi.shastra. She also coauthored five papers on different topics from the encyclopedic Manasollasa (by Someshvardeva) for publication in Asian Agri-History.
Our heartiest congratulations to Professor Sadhale!
Y L Nene Chairman AAHF