Mrs. S. Lalitha Annapurna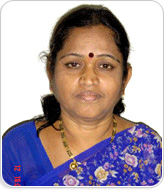 AAHF Award of Trustees Medal 2004
Mrs. S Lalitha Annapurna was born in 1955 in Perur, East Godavari district of Andhra Pradesh. She had her high school and college education in Hyderabad. She received B.Com. degree in 1975 and MA in 200 1, both from Osmania University, Hyderabad.
Mrs. Lalitha Annapurna worked in the Library of the International Crops Rsearch Institute for the Semi-Arid Tropics (ICRISA T), Patancheru, Andhra Pradesh from 1977 through 1994 and then opted for voluntary retirement. In ICRISA T's library she moved through various administrative positions to that of Secretary to the Manager, Library.
Mrs. Lalitha Annapurna was the first staffmember to join the Asian Agri-History Foundation (AAHF) with the designation Administrative-cum-Accounts Officer. She has seen the Foundation to grow to its present stature and has carried out all kinds of required administrative and accounts activities. In addition to her normal duties, she now handles all the desk-top publishing (DTP) work for the Foundation. Mrs. Lalitha Annapurna has been a "pillar" of AAHF.
To recognize her immense contribution to the success of AAHF, the trustees are delighted to honor Mrs. S Lalitha Annapurna with the award of Trustees Medal, 2004